About Us
Ua Mau Ke Ea O Ka 'Aina I Ka Pono
The very life breath and spirit of the land endures in right relationship with the people and all living things. - Queen Keopuolani
Ho'omana Spa is a Hawaiian owned and operated retreat center located on the slopes of mount Haleakala on the island of Maui. Our intention is to bridge ancient values embraced as a way of life for generations with the modern cultural rhythms of the present times.
Aloha Spirit - Inner knowledge to be loving, compassionate, and genuine in all interactions.
Ohana - Family, a bond that transcends time, race, or religious order.
Aloha 'aina - Love of the land, a mutually supportive relationship that the ancients practiced in caring for nature, our greatest provider and healer ~ "Sustainability".
Lokahi - Unity, the understanding that one consciousness connects us all.
We provide a healing environment where one can completely relax, rejuvenate, and embody a state of well-being that nourishes the spirit.
Along with our lovely accommodations for group and personal retreats, we also offer Maui spa services specializing in Hawaiian healing therapies, couples massage, hot stone therapy, Lomi massage, and much more. For the adventurous ones, we offer personalized eco-tours such as ocean kayaking, guided hiking tours, or surf lessons from an enriching ecological perspective. Also, come explore Hawaiian culture by strolling through our native botanical gardens, experiencing the art of hula on our Lu'au grounds, journeying to Maui's sacred sites, or purifying in our Hawaiian sweat lodge.
E Komo Mai - We invite you to join our island family.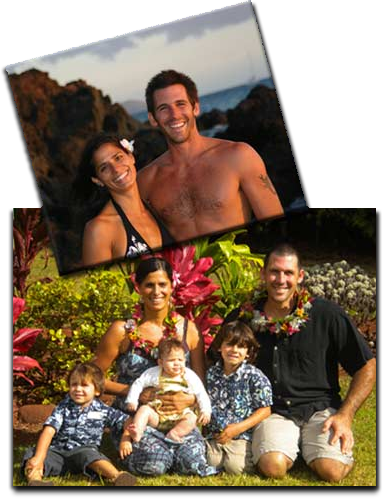 Your hosts: Jeana Naluai, Justin Tafuri and family.